How Over 70 Singles Can Avoid Online Dating Scammers
Posted By Admin |
---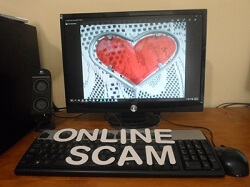 Thanks to online dating, connecting with over 70 singles has been made easy. Although an over70 dating site can make dating fun and simple, you will have to guard yourself against scammers. Over 70 singles are amongst the highest targeted group to be scammed online due to the stereotype of not being tech savvy. By no means should this scare you away from the possibility of finding love online. Once you get an understanding of some methods to use to combat against scammers, you will be ready for online dating.
Understand Online Scamming
If you better understand the internet, it will be easier for you to decipher who could be your next love or your first scammer. Scammers pull tricks that they don't expect over 70 singles to know. You need to know terms like "catfishing." Catfishing refers to using someone else's photos and/or name and posing as that person online. A catfish can easily scam you by not only lying about their looks, but also their age, finances, and more. Catfishing isn't the only method of scamming, so be sure to research other methods.
Knowledge of Helpful Tools
You also need to understand tools such as Google photo facial recognition. This tool allows you to drag and drop photos into Google's search bar and identifies the source of the photo. If you notice the photo has been seen on several websites and has been tagged with different names, you more than likely are dealing with a scammer. Setting up a time to live chat on tools such as Skype is also a great way to make sure the photo is a match since you can see the person in real time. If a person continuously turns down offers to live chat or to meet up outside of the over 70 dating site more than likely they are a scammer.
Keep Your Money
Giving money to someone you really care about is a nice gesture, but it isn't one that should be done over the internet. Scammers know to target an over 70 dating site in hopes to score money. If you have been single for a while, it is easy for you to want to hand over your money when someone is saying all of the right things. When they ask for money, it seems like an okay thing to do, because they have been so sweet. If you haven't witnessed any corresponding actions, such as going on several dates and genuinely getting to know each other in person keep your money. It might sound harsh, but it's the safest route to take.